Digital Marketing vs Traditional Marketing. Digital marketing, online marketing, Internet advertising, no matter what you say, online marketing is today's big business. After all, the use of the Internet has more than doubled in the past ten years, and this change has greatly affected the way people buy products and interact with companies.
In today's situation, due to COVID-19, we have experienced a pandemic on a global scale. People are isolated, confined in the house and have to consume. I believe that with the emergence of new virtual consumers Going forward another 5 years to expand online consumption.
Also Read-Content Marketing in 2021: Tips TO Get Maximum Results
Is It Digital Marketing?
Therefore, digital marketing is nothing more than old marketing, only using digital media (Internet) in different ways, different tools, and different methods. The most important thing is to influence these potential customers online. A digital marketing compared with traditional media, it can attract wider range of people and more differentiated audience and can attract a large number of lower cost for your business, people are interested in what you have to offer.
Digital marketing strategy refers to any online marketing activities or assets used to attract these people, such as: email marketing, pay-per-click advertising, social media and even blogs are all models of digital marketing-they help to introduce you to people Business and persuade them to buy.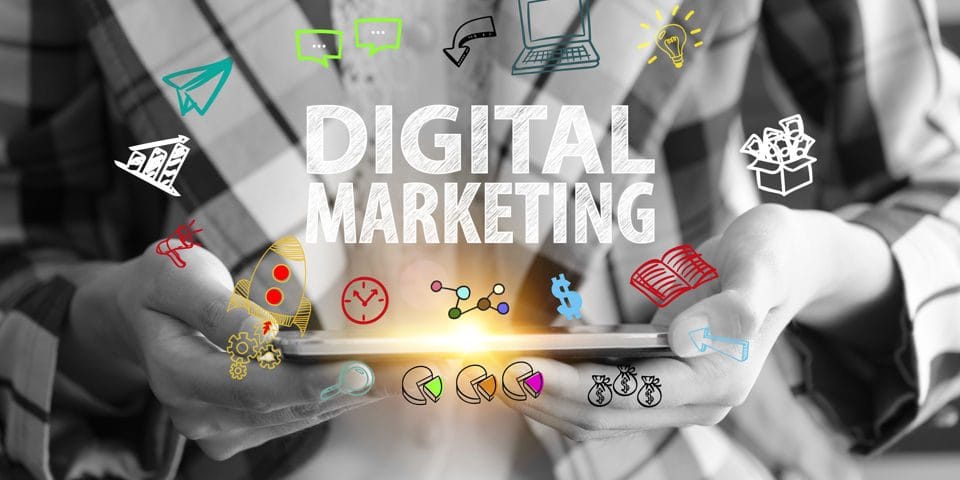 In other words, it can communicate with more people and reach a large number of qualified audiences, but it costs more than traditional advertising (and advertising on TV, newspapers, magazines, billboards, bus doors, etc.) It costs less. Here are some of the most common digital marketing resources and strategies that companies use to reach online users:
Digital Marketing Assets
Almost everything can become a digital marketing asset. It just needs to be the marketing tool you use online. In other words, many people don't realize how many digital marketing assets they own. Here are some examples:
Your website or blog
Brand resources (logos, icons, acronyms, etc.)
Video content (video ads, YouTube, product demos, etc.)
Pictures (infographics, product photos, company photos, etc.)
Written content (blog posts, e-books, product descriptions, testimonials, etc.)
Online products or tools (SaaS, calculators, interactive content, etc.)
Comment
Social media page
As you might think, this list is only on the surface. Most digital marketing assets fall into one of these categories, but savvy marketers are constantly creating new ways to attract customers online, so even if some people doubt it is indeed the case, the list is still growing. Digital marketing works.
Digital marketing strategy
Strategic and tactical action plan-free photo on Pickaway
Here are some strategies are companies using, but they are constantly changing.
Affiliate Marketing
Affiliate marketing is a business relationship in which members disclose the products of entrepreneurs or companies in exchange for commissions for each sale. For people who want to sell through the Internet, this advertising model is a very interesting alternative, and it is also a good tool for companies that want to increase online product promotions.
Email Marketing
An email marketing is the oldest form of online marketing and is still developing. Most digital marketers use email marketing to announce special offers, functional content (usually as part of content marketing) or promotional activities.
Content Marketing
Content marketing is another very broad digital marketing term that covers any digital marketing campaign that uses content assets (blog posts, infographics, e-books, videos, etc.) to build brand awareness or generate clicks, leads or sales.
Social Media Marketing
Like SEO, it is a free organic way to promote your business using social media platforms such as Facebook, YouTube or Twitter. Like search engine optimization (SEO), enterprise-organic marketing in social media need to spend more time and effort, but in the long run, it can be much cheaper to produce results.
Paid Search Advertising
Google, Bing and Yahoo allow you to post text ads on search engine results pages (SERPs). This is one of the best ways to target potential customers who are actively searching for products or services.
Search Engine Optimization (SEO)
Computer Course-Information Products If you don't want to appear on SERP, you can also use SEO to try to organically classify pages or blog posts on your website. You don't have to pay directly for each click, but sorting pages usually takes a lot of time and effort.
Native Ads
Have you reached the end of the article and saw a list of suggested articles? This is a local advertisement. Most native ads are content marketing because they use content to attract clicks ("You will never believe what will happen next!").
Normally, native ads can be a bit difficult to identify because it is often mixed with recommendations for unpaid content… but that's the point. As you can see in the list above, there are multiple ways to do business marketing online, which is why you need to be trained and study hard to understand all these strategies and apply them correctly.
Also Check-What is the Digital Marketing Funnel and how it Works?
Digital Marketing vs Traditional Marketing
5 Differences from Digital Marketing to Traditional
Index
As the name suggests, through metrics, we can measure our behavior on the Internet. For example, we can know exactly how many people watched a video posted on a YouTube channel, how many people visited your website, where they came from, and clicked How many ads are your customers, these are only a few, but there are many ways to measure your actions so that you can take action.
Agile
When we conduct a digital marketing campaign in just a few minutes, we will know whether its progress is good or bad, so we can change our strategy. In traditional Chinese, this is very difficult, because we only know that the booklet that took several days will be paid off in a few days, weeks or months, thus causing unnecessary waste.
Range
Since the Internet is a global network, its scope of influence can transcend national boundaries, depending on your strategy and the content you want.
Against
Depending on your strategy, you can reach the desired audience. Your product or service may be great, but if you are not targeting the right market, you will not be able to sell it. Customers and brands bring different preferences, needs and expectations to each other.
Interoperability
Digital marketing is very interactive, you not only talk to people, but people talk to you. like? Answer you in the comments, watch and enjoy your video. It is important to see your work feedback, understand what people are saying and answer them, because this helps guide your development path, and listening to customers is the foundation of your business success, which is different from traditional feedback. Ideas and others are just watches. More Detail: Digital Marketing Services in Lahore.