It's no surprise that the majority of web traffic comes from mobile devices. People are using mobile devices for online shopping. Approximately 50% of shopping sessions come through smartphones, this is why retail and ecommerce brands are putting their best efforts into creating a stellar mobile app experience to increase conversions and sales.
It is important for ecommerce brands to know how they can optimize their mobile apps to get maximum conversions on mobile devices. You need to improve ecommerce digital experience to encourage customers to complete purchases quickly and seamlessly. Mobile app optimization is critically important, as customers can easily distract when shopping via mobile phones.
Optimizing mobile checkout is a great strategy that can help you improve the overall ecommerce experience and turn your customers into loyal customers. If your mobile checkout process is difficult, chances are you will lose customers fast and they won't buy from your brand. However, if your mobile checkout flow is smooth and hassle free, it will help you retain more and more customers and boost your conversion and ROI.
Offering a great mobile checkout experience is essential to convince people to become your paying customers. Keep in mind that optimizing the checkout process is easier said than done. If you want to improve your mobile app experience and boost your revenue and ROI, you should invest in mobile checkout optimization.
Also Read- 5 Best Ways for Backup in Windows 10
Here I Have Listed Some of The Result-Driven Mobile Checkout Optimization Hacks that You Should Try to Improve Your App Performance and Boost Your Conversion Rate.
Let's explore.
1. Focus on Simple Design
2. Order Summary
3. Guest Checkout Option
4. Social Login
5. Order Confirmation
6. A Clear CTA Button
7. Secure Payment Options
8. Personalized Product Recommendations
9. Trust badges
10. Progress Bar
Mobile Checkout Optimization Hacks
#1. Focus on Simple Design
When it comes to improving your mobile app experience and creating a faster checkout process, focusing on a minimalist design is the key. Your mobile checkout page should be free of clutter and unnecessary fields, helping shoppers to easily complete the order and click on the pay now button.
Reducing the number of form fields is a proven strategy to improve the mobile UX performance rate and convince buyers to finalize the purchase quickly. Keep in mind, adding any additional visual element can increase shopping cart abandonment rate.
#2. Order Summary
Order summary is one of the most important mobile checkout optimization hacks that ensures faster and smooth checkout. By providing order summary, you will provide users with all the required information that they require to complete the purchase process. The order summary should include the following information:
· Shipping address
· User details
· Product details
· Payment details (shipping charges, discounts, taxes, etc.)
· Reward points or promo code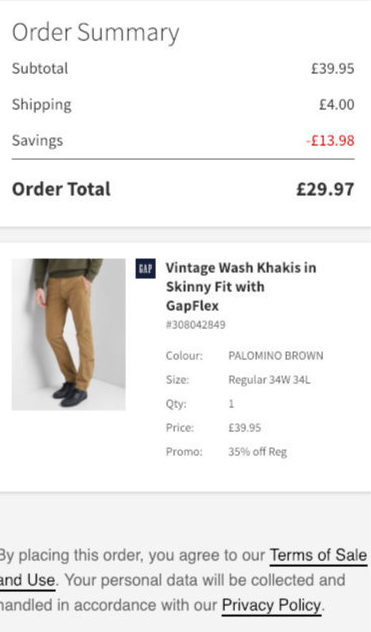 Image Source: Gap
These are a few important points that you should consider while making an order summary. Make sure this information is easy to find and immediately available on mobile devices to increase your chances of getting more conversions.
#3. Guest Checkout Option
Today's shoppers are very impatient, they want quick solutions to their problems. During online shopping, customers are required to register to complete the checkout process. For many shoppers, it is too much hassle to complete this phase.
According to a study conducted by Invesp suggests that 14% of customers leave the website without completing the purchase process when they are forced to create an account to order a product. In fact, it is one of the major reasons why shoppers abandon shopping carts. If your mobile app is not offering a guest checkout option, now is the time to add this option to make it hassle free for shoppers to complete the purchase process.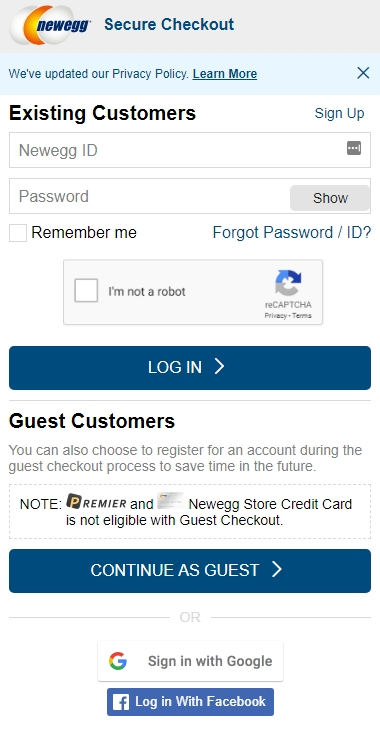 Image source: Newegg
Guest checkout is the convenient option that allows users to checkout as guests, no need to create an account and remember the password. It helps marketers to reduce the shopping cart abandonment rate and improve mobile checkout flow.
#4. Social Login
Entering information on smaller screens is a painful process for many shoppers. Thanks to social login, that makes your checkout flow smoother. It allows users to sign with their social media accounts, such as Google, Facebook, Instagram, Twitter… no need to create an account from scratch. A study reveals that integrating a social login option at the checkout process can increase order value by 35% and 2X the customer retention rate.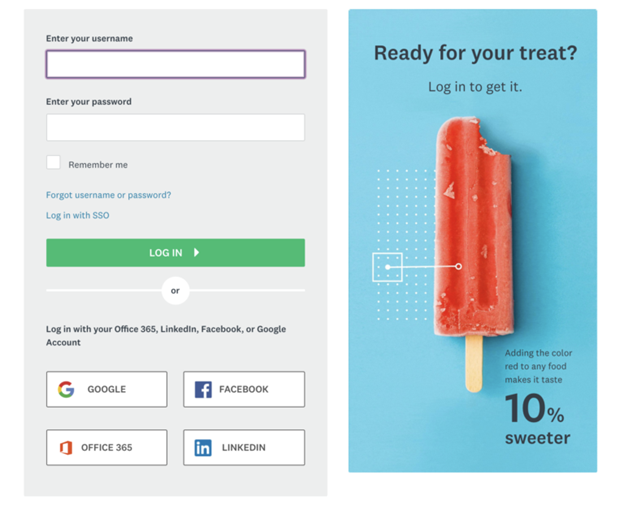 Image source: Survey Monkey
#5. Order Confirmation
Sending an order confirmation message, email or call is one of the best mobile checkout optimization hacks that allows shoppers to engage with your brand. Order confirmation provides peace of mind to shoppers and let them know that their order is completed. Notify your users via call, email or text message when a customer completes a purchase.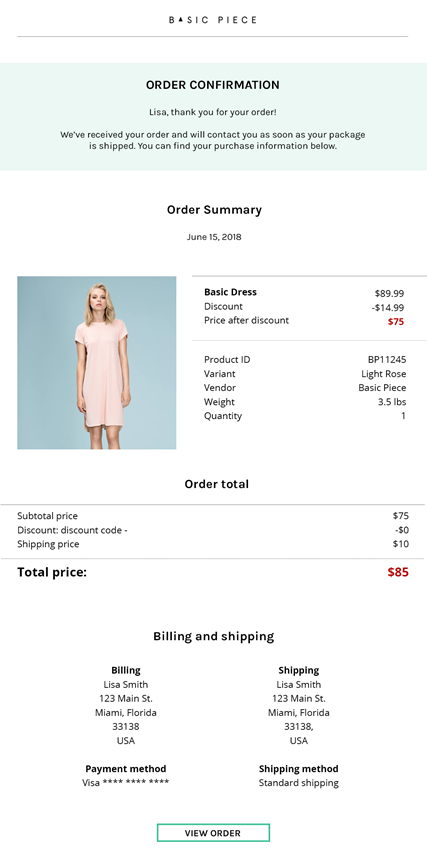 Image Courtesy: Pieces
#6. A Clear CTA Button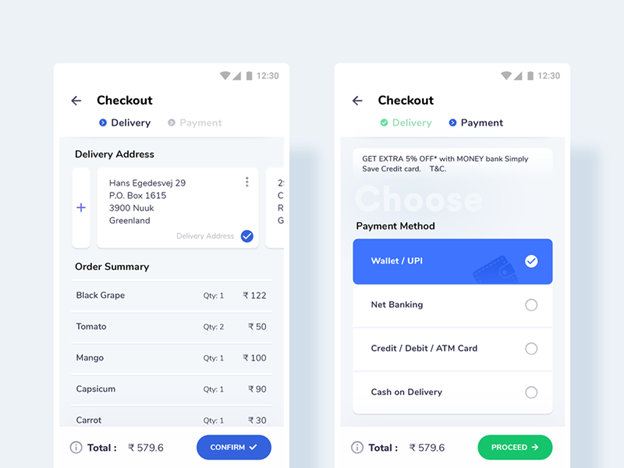 The goal of the checkout page is to encourage users to complete the order and click on the payment option. Make sure the CTA button is clear and standout throughout the checkout process. Adding a CTA button can keep shoppers focused on the desired action – pay now or continue shopping. Don't distract users by adding multiple CTAs, it will simply confuse shoppers and distract them from proceeding to checkout.
#7. Secure Payment Options
Offering user-friendly, convenient and secure payment options can make your mobile checkout process simpler. Online shoppers usually make purchases with credit card and debit card, but many are making financial transactions via multiple methods such as Stripe, PayPal, Samsung Pay, Apple Pay, Google Pay, PayTm and more. These payment methods are more secure and trustworthy, making mobile transactions easier and safer.
· You can add a QR code feature that makes payment hassle free
· Card scanning feature also saves time
· Fingerprint confirmation makes mobile transactions more secure
· Split payment and share the payment with your friends
Also Read-How Blockchain is Changing Digital Marketing?
#8. Personalized Product Recommendations
Customers love personalization, it can make them feel that the brand cares about your preferences. By providing personalized recommendations at the checkout page, you can increase your chances of getting more conversions and increasing order value. When you put the right products at the right time in a personalized manner, it will significantly increase your ecommerce store conversion rate.
#9. Trust Badges
Today, online shopping is all the rage, but still there are some users who hesitate to make online payments. A survey conducted by Ipos suggests that approximately 51% internet users don't make online transactions due to privacy and security concerns. Displaying security badges, trust icons and logos at the shopping cart page is a worthwhile idea to let customers know that your brand takes their privacy concerns seriously. Showing social proof on the checkout page is a result-driven tactic that helps create a sense of trust during the mobile checkout flow. It will simply make your brand authentic.
#10. Progress Bar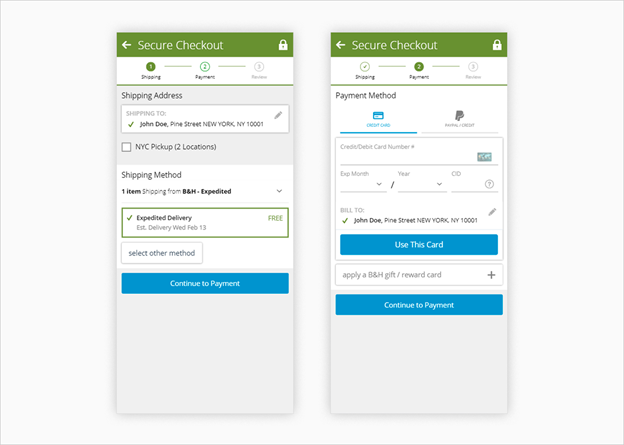 When completing the checkout process, shoppers want to know how many steps are left to take the desired action. Adding a progress bar at the checkout process is a smart strategy to clearly highlight the steps, so that they can identify the steps they are completed and the stages they have left to complete.
Final Thoughts
Following these important optimization hacks for a mobile checkout page will improve the user experience of your app and help you close more sales. If you are looking for an app development company for your upcoming project, keep these checkout page optimization tips in mind in order to come up with a user-friendly mobile app that encourages people to make a purchase.