At a glance
Expert's Rating
Pros
Affordable for its feature set
Good sound with plenty of bass
24-hour run time
IP67 weatherization
True Wireless Stereo support
Cons
Sub-bass only down to 50Hz
No aux input
Our Verdict
The Tribit StormBox Flow is a very good speaker for the money. It's rugged, weatherized, sounds good, gets loud and thumpy, and runs for a full day on a single charge.
Price When Reviewed
$79.99
Best Prices Today: Tribit Stormbox Flow Bluetooth speaker
With the StormBox Flow, Tribit continues its habit of providing more speaker for less money. In this case, more bass than you'd expect from a speaker this size, an IP67 weatherization rating, and an $80 price tag. You could spend a lot more and get a lot less for your money.
Design & build
The Tribit StormBox Flow resembles a small pound cake, with rounded corners and sloping sides. It measures a tad less than 8 inches long, around 3.5 inches wide, and about 1.5 inches thick.
The StormBox Flow feels very sturdy, but weighing in at 1.45 pounds, it's not particularly light. That's not a complaint, as a bit of heft gives me confidence that the unit will stand up to the rigors of being tossed about in a backpack.
Despite its heft, the StormBox Flow floats (its IP67 rating means its entirely dustproof and that it can withstand immersion in up to 3.3 feet of water for 30 minutes). I dunked it quite a few times and it popped back up every time. We'll tell you everything you need to know about IP codes at the preceding link.
Jon L. Jacobi/Foundry
Tribit calls the color of the speaker they sent for review Harmony Grey, which is on the darker side for the hue. The bottom features four feet, while one of its short sides has two additional feet, so you can set it upright.
The top side of the speaker–from left to right–is home to the power, Bluetooth (5.3) pairing, volume-up, play/pause, volume-down, EQ (XBass/Audibook/normal), and TWS (True Wireless Stereo) buttons. Status lights are above the TWS, EQ, power/battery level, and Bluetooth buttons; the play/pause and volume-control buttons are multi-function to handle all aspects of music playback and phone-call handling.
There's a captive lanyard on the right-hand end of the speaker and a USB-C charging port on the left-hand end. The unit sports 25 watts of power driving a single 62mm woofer. If you want stereo performances, you'll need a pair running in TWS mode. There are no wired connections, the StormBox Flow is Bluetooth or bust.
Sound quality
The StormBox Flow sounds quite good. I wouldn't call it sonically perfect, but for $80, I'm not complaining. The high end is clear, the mid-range is well-defined, and the XBass pumps out more thump than I'd imagined it would when I took it out of the box. A lot more, but not so much as to ruin the musicality of the tunes.
The only real glitch I noticed was the volume of sub-bass dropping suddenly and drastically just below 50Hz. It's still there, and you'll feel the cabinet vibrating, it just doesn't project. On the other hand, that it goes as low as 50Hz is better than most speakers of its ilk can manage.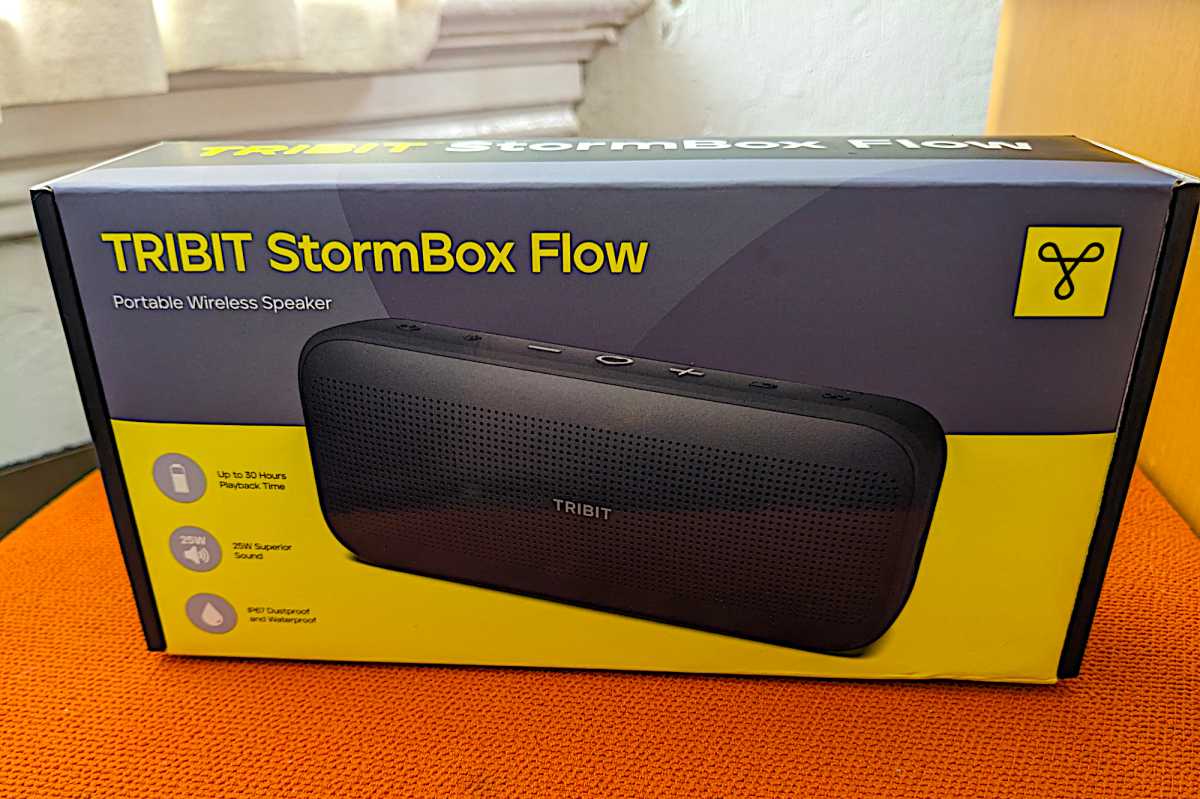 Bass is most noticeable with Young Jeezy's "Put On," where the first sub-note is prominent, while the subsequent, lower ones disappear. That's why that tune is on my speaker-evaluation playlist.
If you'd like to pinpoint where your speakers reproduce and resonate the best, as well as where they don't, there are tone generators available for download and online. Here's a link to my favorite tone generator.
With just a single driver onboard, you're obviously not going to get stereo separation. Despite that, I didn't encounter any phase distortion or frequency cancellation, which can happen during stereo-to-mono conversion.
I should also mention that the StormBox Flow can get very loud for its size. Sending 25 watts to a single driver will make that happen. Sound isn't particularly altered at higher volumes either (at least, no more than normal–and that's partly human perception).
Battery life and charging
Tribit claims 30 hours of play time from the speaker's 4800mAh battery without XBass on, and 24 hours with said thump engaged. A full charge takes four hours, but the company doesn't quote a quick-charge time. I was at around 10 hours with the status light still bright blue-white; i.e., good to go!
Should you buy the Tribit StormBox Flow?
Tribit has been building sonically superior speakers and selling them at very good prices for some time. And that describes the StormBox Flow to a T. I'd love to see the sub-bass reproduction extended, but in total, this another affordable winner.