At a glance
Expert's Rating
Pros
Long wireless range
Extremely simple
Its basic features work well.
Hub is very inexpensive
Cons
Extremely limited feature set
Security system is easily disabled—just unplug it
No support for cameras
Sensors are no cheaper than those of full-featured DIY security systems
Our Verdict
There's not much to the Tapo H100 Smart Hub with Chime, but if you need an absolutely basic alarm system–or if you just want to dip your toe in the smart home space without a big investment–it should fit the bill.
Price When Reviewed
$22.99
Best Prices Today: Tapo H110 Smart Hub with Chime
Smart home hubs come in various levels of complexity, but if absolute simplicity is your goal, it doesn't get much more basic than TP-Link's Tapo H100 Smart Hub with Chime.
This review is part of TechHive's in-depth coverage of the best smart home systems.
Design & build
The H100 is a humble little box measuring just 2.8 x 2.5 x 2 inches (HxWxD). It plugs directly into a wall outlet and includes a small speaker that can work as both a 90dB siren and a doorbell chime. A single button on the side of the device is used only for setup purposes and for silencing any alarms or ringing events. All other functions are performed within the Tapo app.
The Smart Hub H100 works directly with a narrow range of products: Tapo's smart button ($23) and a passel of sensors. These include motion sensors ($20), door/window sensors ($20), a temperature/humidity sensor ($20), and a water leak sensor.
Christopher Null/Foundry
I received only the door/window and motion sensors for testing and worked with both. While other TP-Link products—in the Tapo and Kasa Home families—can be managed with the Tapo app, the H100 can directly interact only with the button and the sensors. The Tapo app—exclusive of the H100—does give you some added flexibility and connectivity options, however. I'll delve into this in more detail in a bit.
A more advanced version of the hub, the Tapo H200, adds support for cameras and includes a microSD card slot for storing video recordings, but it seems this SKU is available only bundled with select Tapo security cameras.
Installation and setup
Setting up the Tapo H100 is a simple affair; you just step through a few basic configuration options in the Tapo app, manually connecting to a temporary Wi-Fi network, and then bridging the connection to your home network (2.4GHz only). Setting up sensors is even easier. Just select the sensor type from Tapo's list of supported products, remove the plastic strip that engages the battery, and give the product a name. Firmware updates will likely be in order immediately following.
Tapo's sensors don't connect via Wi-Fi, either to your network or to the Tapo hub. Instead, they use a proprietary protocol operating in the unlicensed 868/922MHz frequency band to talk directly to the hub (which is why setting them up is so simple). This sub-gigahertz band consumes less power, delivers longer range, and is less crowded than the frequencies Wi-Fi uses.
Performance
In my testing, an H100 centrally located in my home reliably connected to sensors everywhere in my house, except for the distant garage. I didn't encounter any functional problems throughout my time testing the device. Sensor activity was dutifully recorded each time it happened.
So, the Tapo H100 and its companion sensors do a solid job of talking to one another. But if a sensor is tripped, what then? Here we start to see the limitations of the H100 as a hub, because when it comes to building a real security environment, things start to fall apart.
Christopher Null/Foundry
By default, tripping either of Tapo's sensors will cause the H100 to sound an alarm. (By default, that alarm is curiously a rendition of "Jingle Bells," with 18 more options to choose from.) If an alarm sounds from opening a door, it doesn't stop for any reason, including closing the door. You must either manually disable the alarm by pressing the button on the side of the hub or wait for the alarm to run its course and time out. On the plus side, all this activity is dutifully logged by the Tapo app.
And that's really the extent of the features of the H100. You can change the alarm tone, volume of the alarm, length of the alarm, and cooldown allowed between detection events in the app, but nothing further. The Tapo H100 is an exceedingly blunt and basic home security device. Perhaps pairing it with a Tapo wireless smart button to use as a makeshift doorbell makes a bit more sense.
Now, just because the H100 can't communicate with other devices doesn't mean the Tapo app can't either. You can squeeze a little more life out of the H100 if you pair it with other products in TP-Link's Tapo or Kasa Smart product lines, although your options here still aren't the most robust. Using the Tapo app's Smart interface, you can create simple if-then routines that let you enable simple automations in the event of a sensor being tripped.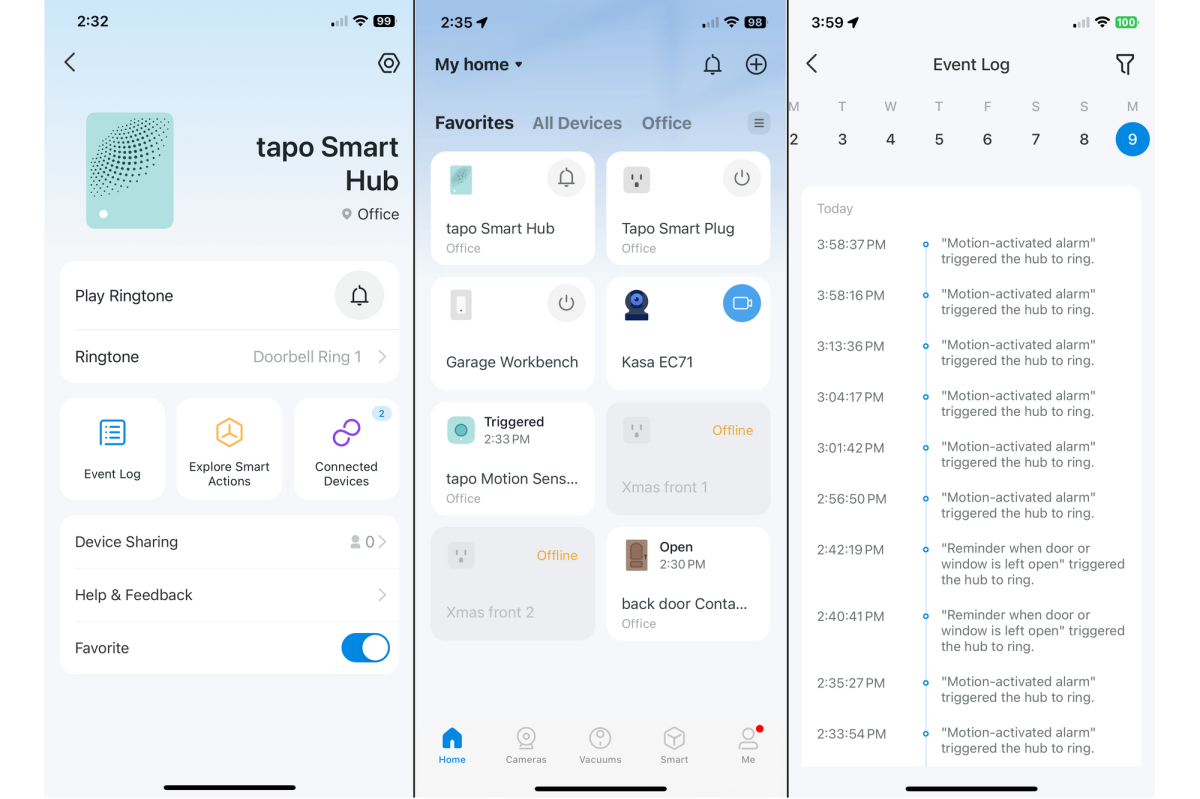 Christopher Null/Foundry
For example, I was able to tell the Tapo app to turn on a Kasa Smart light switch when the motion detector was tripped—or to do the same for a Tapo smart plug. But beyond flipping lights or switches on or off—or setting the brightness level of a smart dimmer—there was really nothing else I was able to do within the Tapo app. The app doesn't even let you trigger a Kasa camera to start recording if a sensor is tripped, and there's no way to get any sort of real-time notification when automations happen.
The good news is that the Tapo sensors and hub support Amazon Alexa and Google Home, and you can create much more sophisticated automations on either of those platforms, including things like turning on cameras to record when a sensor is tripped. If you want to explore automation in more depth, I recommend using the H100 with one of these platforms.
Should you buy the Tapo H100 Smart Hub with Chime?
The Tapo H100 is an absolutely rudimentary home security system, and it's priced accordingly. Given its extreme limitations, however, most users will be better off with a more full-featured hub with genuine security features—including options for professional monitoring.
Most of your other choices—including our top picks, Ring Alarm, Ring Alarm Pro, Abode Iota, and SimpliSafe—cost a lot more, but the sensors and other accessories are typically priced about the same.
Ultimately get what you pay for.